Best Butter Chicken in Melbourne
Does Khushee Make the best Butter Chicken in Melbourne?
Many of our loyal customers believe our authentic Indian Butter Chicken is the best they have ever tasted. Our butter chicken is our most popular dish both on our home delivered menu's and in the retail stores that stock our food.
We pride ourselves on sharing the best quality and most authentic Indian dishes with you, ensuring we understand the heritage of each dish from regions all over India.
Beautiful food, cooked with care and experience! My favourites are the butter chicken and the palak paneer, but it is all good. Easily better than any Indian restaurant I have ever been to!
Having lived in the India/Burma region for more than 10 years, we have to say that Kushee's dishes are simply superb, bringing back so many memories of the textures, nuances and subtleties of authentic Indian food.
Everything is great at Khushee but the butter chicken is the best I have ever had!


The Origin of Butter Chicken in India
Here we will share with you the history of how Butter Chicken was created in India. Some people believe Butter Chicken is not a traditional Indian dish and came from England, but this is not correct. The most famous Indian dish in the world was in fact created in India, in Old Delhi. Unlike many authentic Indian dishes which can be hundreds of years old, it's heritage is not as long as many other famous Indian dishes. Butter Chicken was created in the 1950's, when Kundan Lal Gurjal the owner Moti Mahal came up with the idea of creating a dish to use the unsold tandoori chicken which was cooked on skewers in a tandoor oven. Kundan Lal Gurjal came up with the idea of creating a sauce (or gravy as it is commonly called in India) with tomato's, cream and of course butter to immerse the Tandoori Chicken pieces in to create the saucy Butter Chicken dish that is so famously known the world over. Kundal Lal Gurjal is therefore the inventor of butter chicken; the most famous Indian dish in Australia and possibly the world.
Why is it called Butter Chicken?
Butter chicken is traditionally known as Chicken Makhani or Murgh Makhani, Mahkani meaning butter and Murgh meaning chicken in the Punjabi language. So the name butter comes from one of the most important ingredients in the dish being butter, and of course from the protein being chicken. You may have also heard of the famous vegetarian Indian dish Dal Makhani, which you may now be able to guess is dhal with butter.
How to tell if you're eating an Authentic Butter CHicken
As you read in the historical story of the history of butter chicken, it was created from tandoori chicken pieces. This is a very important clue as to whether you are eating authentic butter chicken. When you see the pieces of chicken in the butter chicken sauce, they should have an orange or pinkish tinge on the outside of the chicken. A traditional version will also have some hint that is has been cooked in an oven or tandoor so there will be some signs that the chicken pieces have been browned before they have been placed in the butter chicken sauce. When you cut into a piece of chicken you will be able to see the orange on the outside of the chicken pieces and it should seep slightly into the chicken if the chicken pieces have been marinated overnight before they are baked in the oven or tandoor.
An authentic butter chicken will have pieces of chicken and sauce. There are no pieces of vegetables in butter chicken traditionally. If you are making a simple version and you want to get some extra vegies into your kids, then by all means feel free to add some potatoes, carrots or beans, but this is absolutely NOT how butter chicken is made in India. If you buy it from a restaurant and you find pieces of potato or a "filler" vegetable they may be trying to increase their profit margin by providing less chicken, but you can be assured that this version is not authentic. At Khushee we weigh every meat dish to ensure there is a generous portion of chicken (or other protein depending on the dish) in each and every serving to ensure it feeds 2 hungry adults.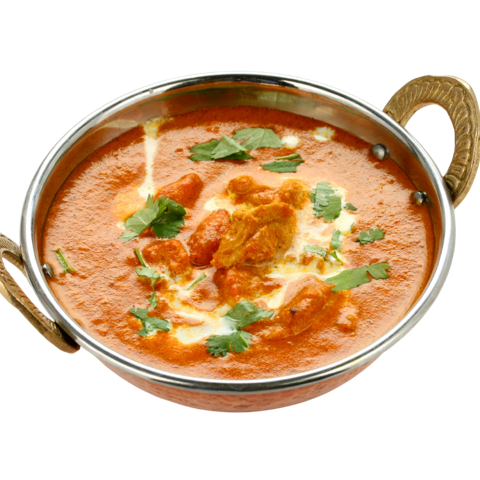 essential ingredients and Flavours in Butter Chicken
Chicken Thigh
All our chicken dishes use chicken thigh, as chicken breast tends to be drier, and has less flavour than chicken thigh. When creating a dish ensuring it has maximum flavour as well as authenticity is an absolute priority, so of course our butter chicken also has boneless chicken thigh not chicken breast. Of course, as described above you will notice the pinky/orange on the outside of the chicken pieces as well as some brownness from the oven baking and butter basting process.
Tandoori Marinade
Initially the chicken is marinated with tandoori marinade which is includes garam masala, clove powder, chilli powder, mustard oil, lemon juice and yoghurt. The chicken is marinated overnight and then cooked in the oven or tandoor while being basted in butter.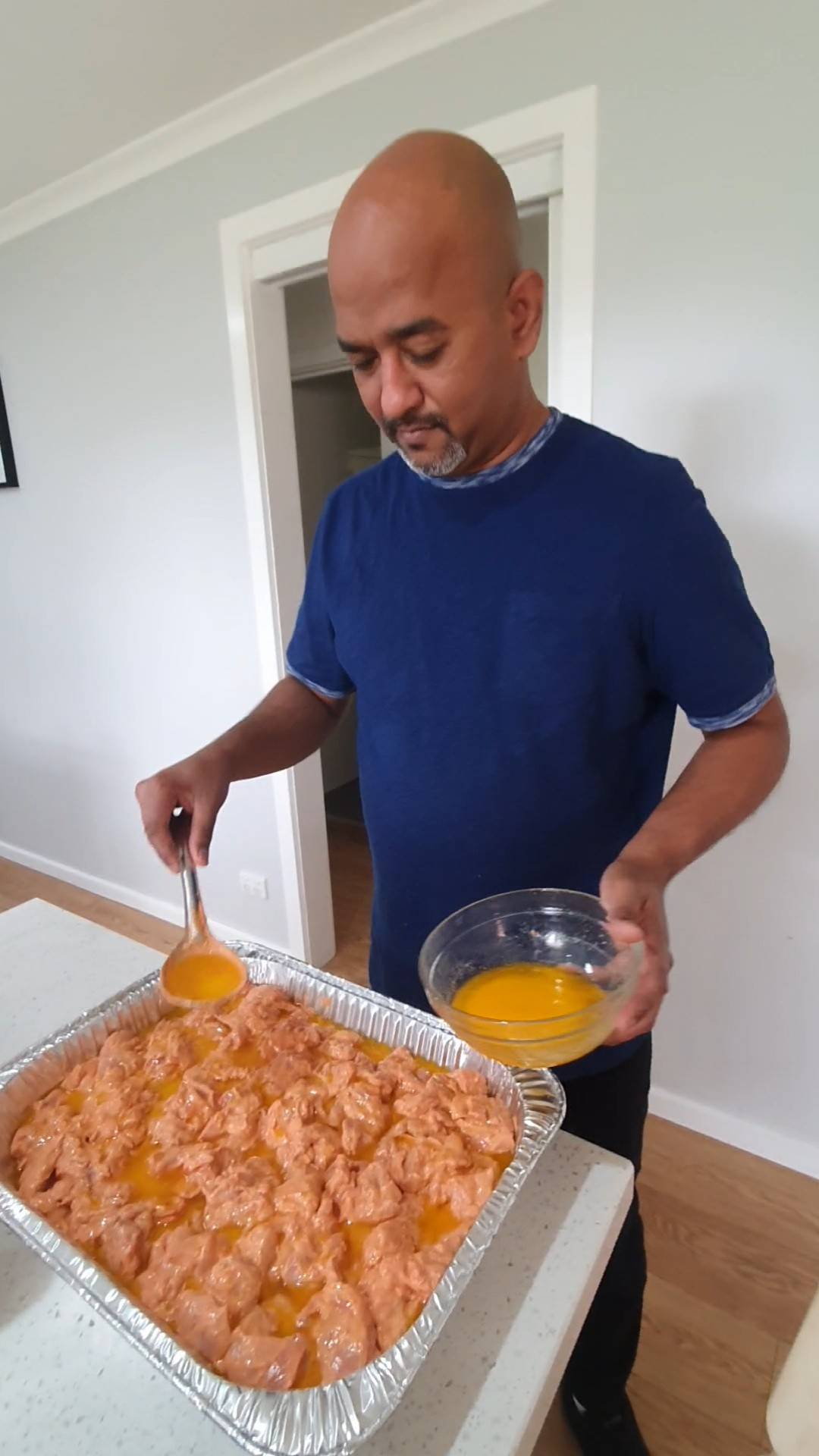 The flavour of butter chicken is all about balance. The sauce should be velvety with sweetness, savoury, tang and heat. These flavours are created with a perfect combination of cashews to create the signature velvety nutty richness, tomato and onion for tang, honey for sweetness, the oven baking while basting with premium salted butter as well as salt to creating the savoury umami flavour, and Kashmiri chilli powder for heat. Garam masala, clove powder, green and black cardamon are essential spices in the butter chicken sauce and cream for added buttery smoothness. At Khushee we put our own special spin on the traditional recipe which involves using an ancient Indian method of smoking the marinated chicken before it is baked.
As you can decipher from the above description, there is no "easy" recipe to create an authentic, balanced butter chicken with traditional Indian flavours. You can buy a bottle of simmer sauce and throw it in with chicken that you fry for a few minutes, but it will not have anything near the balance and depth of flavour of the traditional version you will experience from Khushee.


Is Butter Chicken healthy?
After reading about the ingredients and cooking methods involved in creating an authentic Indian version of butter chicken you may be thinking health benefits are not high on the list in this dish. However, this dish and all our dishes at Khushee is gluten free which is great if you are gluten intolerant or coeliac. It does however contain sugar in the form of honey so it's not suitable for a keto diet, but if you make this dish at home you could substitute honey with artificial sweetener to make a keto version. This would also reduce the calories as it's not a low calorie dish as it contains honey, cream and butter. You could put in a low fat cream to reduce the calories further if you were to cook it at home.
How long can I keep Butter Chicken in the fridge?
If you buy our Khushee butter chicken, you can store it in the fridge for up to 6 days, and you can also freeze it for reheating for up to 2 months. If you buy our butter chicken from one of our stockists, it will have a sticker with the date to consume or put it in the freezer.
How can I order your authentic butter chicken?
You can order our fresh or frozen butter chicken from our website, click the button below to see our menu, or visit one of our stockists.


Cuisine beyond Butter Chicken
At Khushee, we are very proud of our butter chicken, however we love when our customers become adventurous and try our lesser known dishes from other regions of India. Each week we have a different regional menu to share the flavours of India with you. We can send you our menu each week to share the origins of all the authentic Indian dishes.
Enter your details below to receive our weekly regional menu