Are you catering for lovers of classic North Indian Dishes? For the absolute best home cooked quality including the best Butter Chicken in Melbourne and more for your party at home or in the venue of your choice then you have come to the right place.
The Northern Indian states are represented with our authentic North Indian dishes including Butter Chicken with cashews, organic local honey and cream, Vindaloo cooked with tender meat of your choice smoked with ghee and cloves (Lamb, Beef or the more traditional Pork), of course we make Rogan Josh, Korma, and the most authentic and tasty vegetarian North Indian Dishes including Aloo Gobi, Channa Masala, Dhal Makhani, Mutter Panner, Palak Paneer, Paneer Butter Masala and so many more.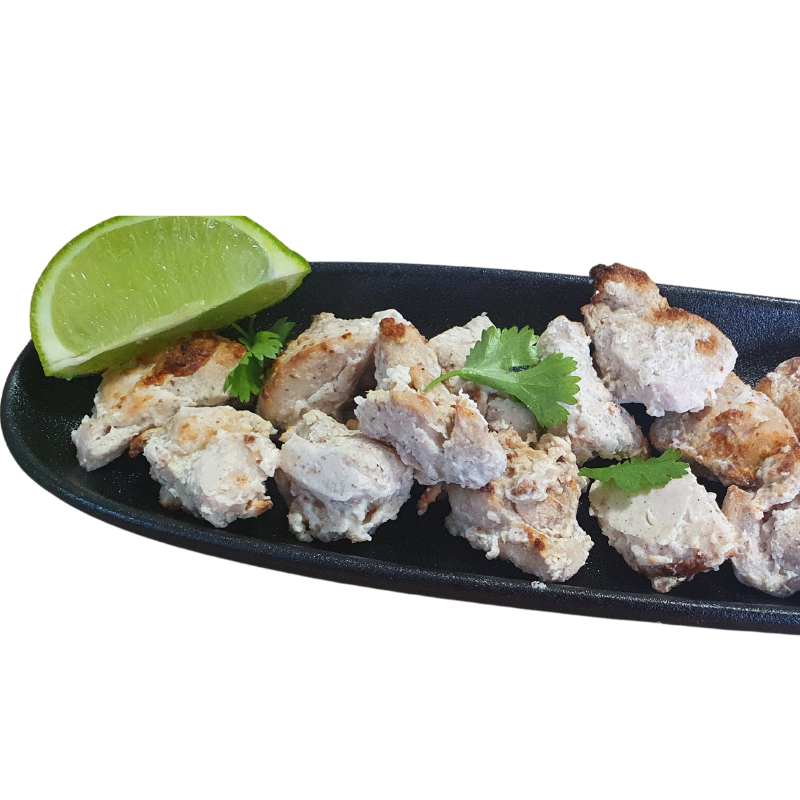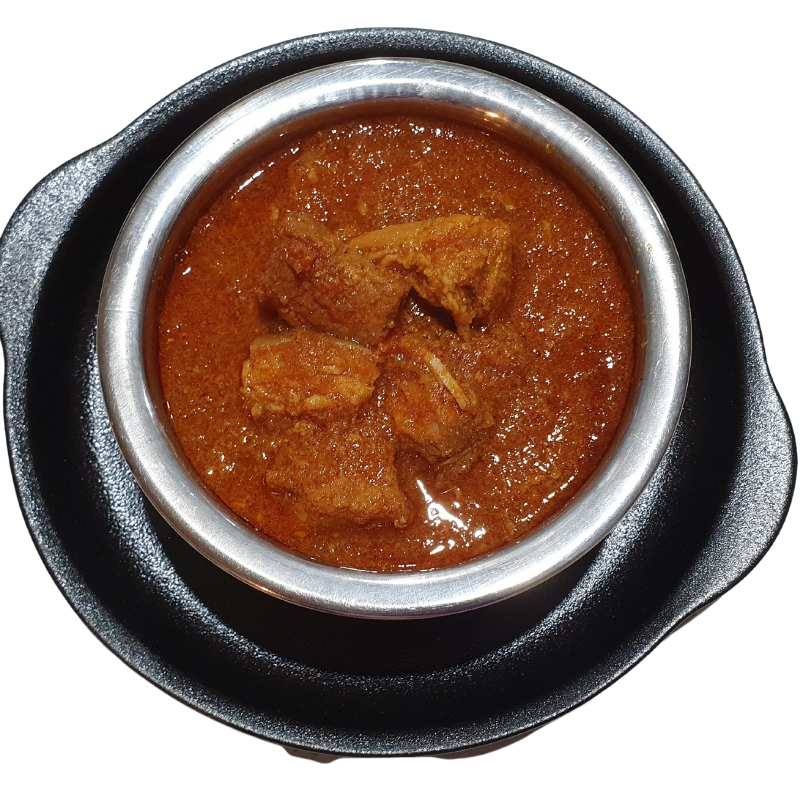 Chicken Malai Kebab are also known as Reshmi Kebabs. These kebabs belong to Mughlai cuisine and are normally served as a starter. These kebabs are made with ground cashews and almonds, cream, thick yogurt and spices. They just melt in mouth and taste delicious.
Delicately smoked marinated chicken is oven cooked while basting with butter & then tossed in a tomato, cashew & cream sauce with balanced flavours of spicy, tangy & sweetness from natural honey complimenting each other interlaced with hints of smokiness coming through.
Over Vindaloo is very flavoursome, but is not extremely spicy. Tender pieces of beef Marinated overnight in vinegar; ginger & garlic paste & spices is slow-cooked to create a yummy spicy tangy gravy.
We can make Beef, Lamb and Pork Vindaloo.
North Indian Menu options
Are you planning to host a party with a North Indian menu?
We can help you impress your guests with the most authentic
North Indian dishes which have left indelible marks on my tastebuds which helps me bring those flavours to you.
I'd love to share these authentic dishes from home with you and your guests.
For $23 a head you can choose
1 vegetarian main, 2 non vegetarian mains, 1 rice
complimentary pappadums, raita and mango pickle.
To add on extra non veg dishes for $3 per head, or $2 a head for each extra vegetarian dish.
If you'd like to order dishes in bulk or you'd like to discuss a custom menu please call me (Kayden) on 0431 938 939
Vegetarian

Aloo Gobi (Vegan)
Dhal Makhani
Vegetable Korma
Palak Paneer
Paneer Butter Masala
Mutter Paneer
Kadai Paneer
Dhal Tadka
Sultani Dhal
Channa Masala (Vegan)
Non Vegetarian
Korma (Chicken, Goat, Lamb)
Vindaloo (Lamb, Beef, Pork)
Starters
BBQ Tandoori Lamb Chops
BBQ Tandoori Chicken
Malai Chicken Kebab
Shami Kebab
Hara Bhara Kebab (Vegan)
Accompaniments
Mango Chutney
Cumin Rice
Ghee Rice
Premium Steamed Basmati Rice
Pappadum
Raita
Don't see your North Indian favourite dish?
Just ask, we'd love to create it for you :)
Call Kayden on 0431 938 939 and he can customise a dish or a menu for you.
If you'd like to see other menu options including Anglo Indian, North Indian, Kerala, Mangalore and more click here.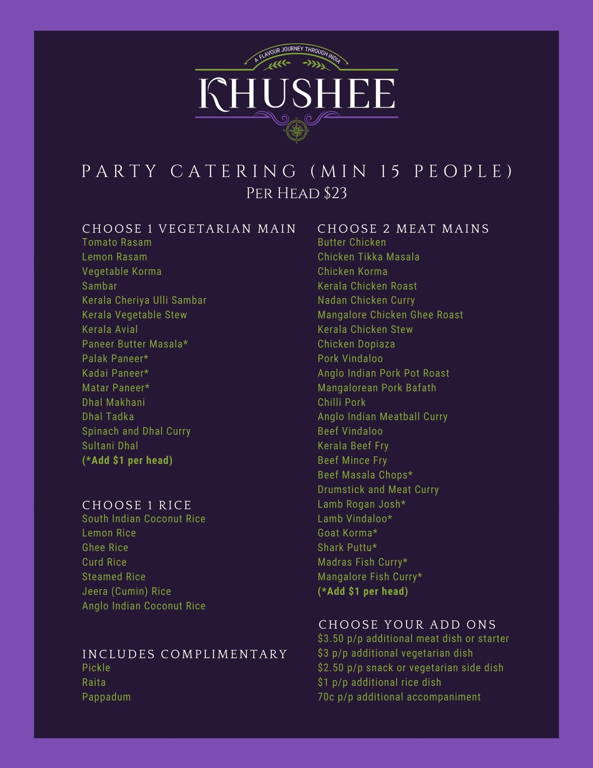 What our customers say about the food
Best Indian food I've ever had in my life. The flavours are amazing, I look forward to ordering again. - Shau
There is no comparison with your food!! Butter chicken is wonderful, and I loved the veggie dish this week. - Shane
Hats off to Khushee again - this lamb vindaloo is magnificent. My belly feels very smug right now. - Kellie